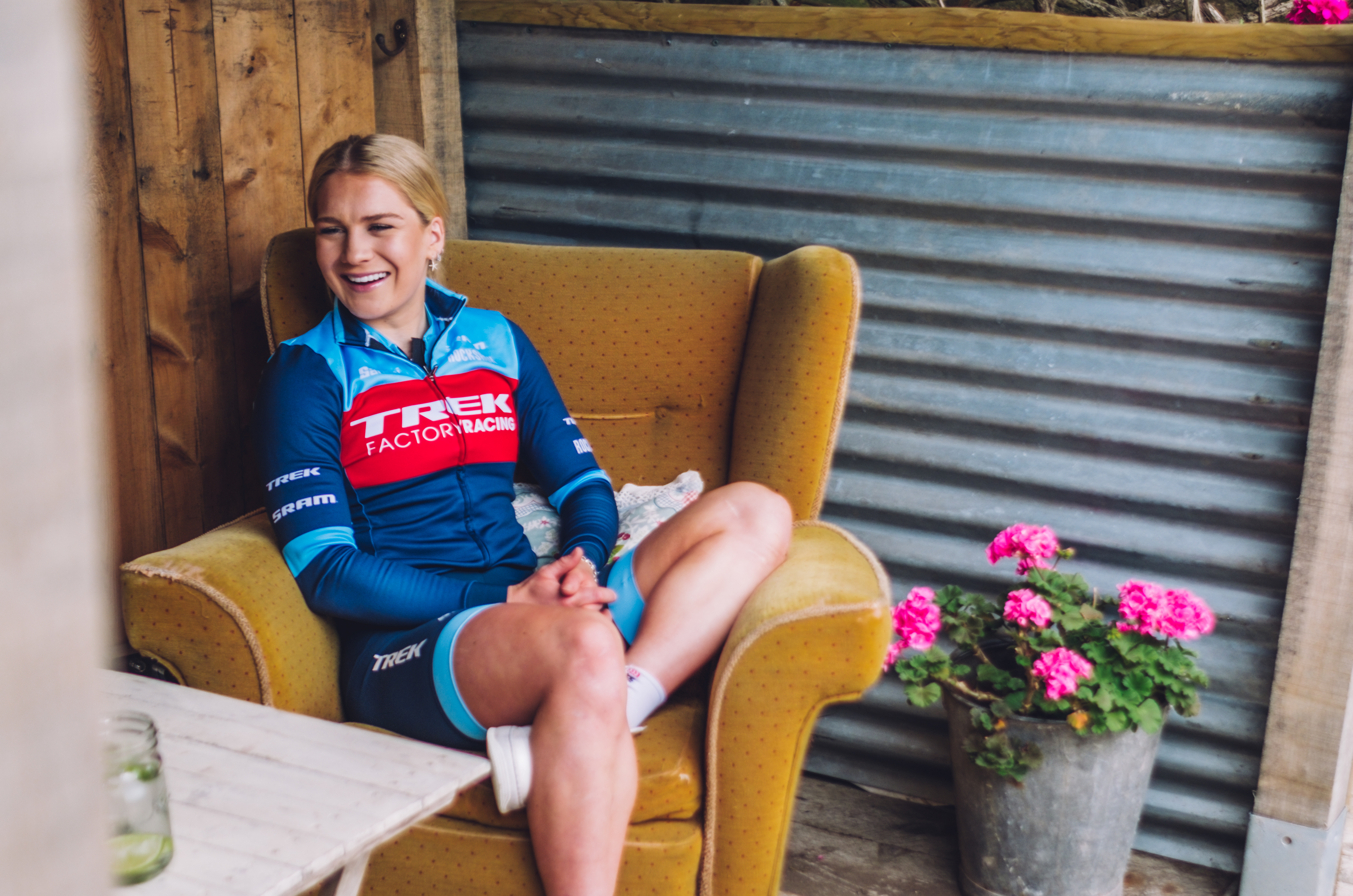 Coffee and a chat with Evie Richards
Created on: 26/04/2022 11:32:32
Updated on: 26/04/2022 11:32:32
It's a crisp day in late January and by crisp, we mean freezing! The piping hot latte's we ordered came to our rescue, offering us a nice warm metaphorical hug, as we sat down to have a chat with our brand ambassador and 2021 Women's MTB Cross Country World Champion, Evie Richards. We wanted to find out how her training was going, the season ahead and also to give us some advice on getting ready for Spring … which frankly we think can't come quickly enough!

Here's what Evie had to say.

"You've had a super busy winter by the looks of it, what have you been up to?"

This winter's looked a little different for my preparations. I got sick after the final world cup in September and my body just needed a really big break, as I haven't ever had more than 2 weeks off at the end of a season. And it was frankly the best thing ever as it really gave my body and mind some time to reset and I've been so motivated ever since.

I then did a training camp in Gran Canaria, followed by one in mainland Spain. I planned to be home for Christmas and then race XC through the new year period, but unfortunately I caught another cold which was very frustrating. So I rested up and then headed back to Spain after the new year for another training block. It's been cool to do a different type of pre-season build and step away from racing, as it's given me the time to reset and build a good base and be hungry to race when the XC season begins.

"What's been the focus of your training so far?"

Winter has been a really good time to build base miles and work on my technical skills. I've never had the chance before to build such a solid base and it's been super nice to also travel away for these endurance miles. I haven't done winter training camps in such a long time as I'm usually racing XC.

"On that note, how was Spain? It sounds like the perfect pre-season training programme. What is it you like about the cycling there?"

I was very lucky to be attending the trek road team camp so it just made the perfect training. They had chefs, mechanics and swannies, so it meant all I needed to do was ride my bike. At home, especially in winter, the days can get super busy when there's so much kit to wash and the evenings get dark so quickly … I always feel exhausted by the end of the day! But in Spain, with this free time, I could really invest in my rest and recovery so I was ready to train hard the next day.

"For those wondering, can you give us a little peek into what Evie's daily winter routine looks like?"

Every day looks super different, but it always starts with coffee – pretty much like we're having now! I stretch and then head out training, normally layered up in many water proofs when I am at home. I've been very lucky as dad has been working at home over the winter so he'll meet up with me for the second half of my ride, which always makes me super happy.

I then clean all my bikes and kit, jump in the bath with a hot chocolate and have lunch. Then if I have time, I'll throw on something nice and pop into town to meet my sisters or mum for a coffee. Then it's either a run, pilates or gym. I've fallen in love with pilates this winter, and I'm very lucky as my coaches wife teaches me over zoom.

As for the evening, I always make a right mess of my house as I'm normally darting in and out all day, so evenings are mostly spent doing a big tidy up, ready for the following day.

"So, let's talk about the 'little' win you had recently - Rider of the Year! Big Congrats!"

Thanks so much. I actually deleted Instagram for a little break and my phone was pinging like crazy from our family group chat. They were all so excited and I didn't know what they were on about! But, of course, it was just the cherry on top of an incredible year, I really couldn't believe that out of all the amazing riders, I won it.

"Moving on to the season ahead, how are you feeling about retaining your World Champion title?"

I never have much confidence but I think that's just who I am as a person, so I definitely won't be strutting in to the season, in the stripes, feeling like I'm a world champion. Quite far from that really. I still feel embarrassed wearing the jersey when I train because I worry people might thing I look too slow to be a world champion!

But, I have confidence in how many hours I've put into training and I've been working with my psychologist, so I'm as mentally prepared as I can be and I've been working super hard on my technical skills. So, I have confidence in the fact that the work I've put in will help me on the path to defending my title at the end of the year.

"The season kicks off on March 26-27 at Lourdes, France and then on to Brazil. We're curious, what's your favourite course or the one you're looking forward to the most?"

Well, good for me that my favourite event is actually Les Gets which will be the world champs this year. Apart from the course, it's just the whole atmosphere there. I love the mountains, the cafes and all the places to swim, they also have the best pizza place in the world down in Moraine! The crowds are also amazing, it really feels like the town comes alive when the event is on.

"And is there anyone you think is looking good this season?"

I really have no idea. I try not to get caught up in looking at what other people's pre-season looks like... but I know from last year everyone is fast!

"Final question from us, Evie. Spring isn't too far way – although it feels like it today! What advice do you have for our readers for getting ready to get the bikes out and get riding again?"

I think it's always nice to put on a fresh set of tyres. I take the mud tyres off and put a faster rolling tyre on and it automatically makes me feel like I'm a faster rider! It's the same with the road bike, the mud guards come off and the bike just looks excited and ready for summer again!

Other things for the bike, I'd say do your checks. For me it's battery's, but maybe not everyone has that luxury! I have so many different bikes, some can be sat at my mum and dads house in hibernation for a bit, so I'll always roll out and realise the gears won't change and the power meter isn't working. But that's always a good excuse to nip into town for a coffee whilst I buy new battery's.

I think one thing that's overlooked sometimes is sealant in the tyres. That's why it's good to change your tyres when you're in spring, it means you can check the sealant level and avoid any punctures when you're out on your adventures.

As for riding and getting started again, I would say slow and steady if you're just getting started, however this is advice I know I don't listen to myself! But it's good to give your body time to adapt so that you don't set yourself back further down the line with injuries or fatigue.

Other than that, there isn't a particular bike drill I would suggest. Just make sure you're fuelling well with both snacks and fluid, get enough sleep and make sure you give yourself time to stretch and invest in some core work. All these little things come together to make your riding so much more enjoyable.

And with that Evie had to shoot off to her next appointment. The busy life of a World Champ! We'd also finished our hot latte's and thawed out, so we're ready to get on our way after a great few hours with Evie. It's always such a pleasure.

Thanks once again to Evie Richards, our brilliant and inspiring brand ambassador. And we can't wait to see Evie in action once the season gets underway. But for now, it's ciao from us … and we'll be catching up with Evie again very soon.