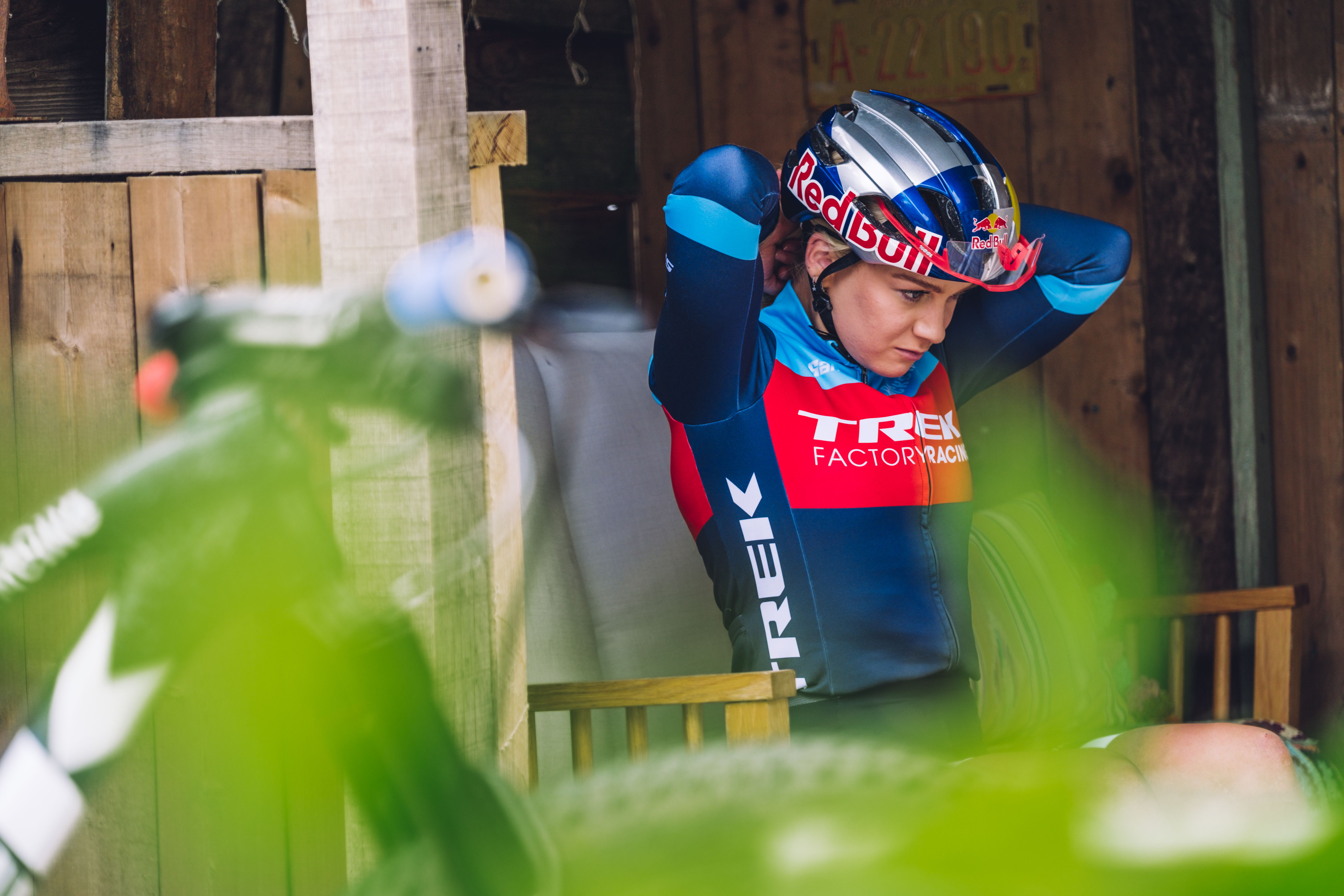 Protecting Your Bike This Winter
Created on: 26/04/2022 11:32:32
Updated on: 26/04/2022 11:32:32
The clocks have gone back, the temperatures are dropping and, love it or hate it, you're braced for all the 'joys' and challenges of winter riding.
The wet roads, combined with mud, dirt and grit, means it pays, both literally and metaphorically, to show a little love to your pride and joy through the winter season. So, who better to ask than the 2021 Women's MTB Cross Country World Champion and protectmybike brand ambassador, Evie Richards, what she thought of our top tips for protecting your bike through the winter.
Tip 1: Mudguards.
Yes, we know these aren't particularly popular but they're a big win against the war on winter. They protect you from a washing machine-wrecking, mud splattered, back and also your fellow riders from unwelcome road spray.
They'll also protect the bottom of your down tube from the relentless spray of dirty water and from grime and grit getting caught up in your chain, chainset, bottom bracket and your headset bearings, which can lead to premature wear and tear, as well as, rusting.
So, as much as you probably don't want to hear it, mudguards are our No1 winter bike addition.
Evie says: "Anyone who knows me, knows I LOVE wet and muddy conditions, but I do agree that they're probably not what your bike loves. Mudguards are therefore your best friends for winter riding, especially for commutes and casual leisure rides. The cost of repairs, as a result of not having them in wet and muddy conditions, is much higher than the hit on your riding efficiency or your bike's 'ego'. Your bike will definitely thank you for it ...!"
Tip 2: Clean, Clean & Clean.
The temptation when you get back from either your daily commute or a weekend ride is to scoot indoors and warm up, grab a hot drink or take a shower and well, you'll clean your bike later, right. Yep, we've all been there and well, later turns into tomorrow and then into next week.
The grit, debris and water cause rusting and erosion and the longer they're left on the bike, especially after a particularly long and muddy ride, the harder they are to remove once they've dried. Our 3-point maintenance regime is;
Clean; Wash down with warm water or with a specialist bike cleaner and invest in a set of bike cleaning brushes to help you get into all the small and awkward places, like in between the spokes and wheel hubs.
Degrease & Lubricate; Regularly cleaning and degreasing your chain is a must during winter. A chain cleaning device combined with a specialist degreaser will remove the grime that's built up over each ride. And then use a brush to clean the cassette, derailleur jockey wheels and chainrings. Then the final step is to apply a thin layer of lubricant.
Keep it locked away and under cover. The dark nights make it easier for thieves and being under cover will protect your bike from the elements and all the work you've just done to get it cleaned and ready for your next ride.
Evie says: "I can totally relate to just wanting to get into a nice hot bath after a really cold and wet ride and sometimes the bath wins to be honest. But after a long ride, when I know my bike will be caked in dirt, I make sure that after a little TLC for me, I go and give the same to my bike. Although in Summer, there's nothing I love more than getting under that cold hose pipe with my dogs and cleaning my bike – so refreshing.
Some other things I'd say would be to take a look at some of the special winter protection sprays out there. They're great at repelling water and stopping the dirt sticking. Also, check out lubricants designed for winter as they're better at not washing away in the rain vs standard lubricants. And I also love my soft brushes which are brilliant at loosening any caked-on dirt.
Final tip, which sounds obvious, is to start at the top of your bike and work down. I think it's always instinct to start where it's the dirtiest, which is normally towards the bottom but no, work down from the top as this way the dirt from the top doesn't then ruin all your hard work lower down."
Tip 3: Winter Tyres.
With all the grit and debris on the roads in winter, punctures are pretty much an inevitability. First line of defence is to try and stay out of the gutter where most of it collects. Next is to consider switching to winter tyres. And although a little heavier and with a higher rolling resistance, they're more durable and less likely to puncture. Tubeless tyres are also an option, as is lower tyre pressure.
And for mountain bikes, ideally look for plenty of square-faced and well-spaced knobs to help cut through the mud and that then clear quickly. Also the best winter tyres are usually a little narrower.
Evie says: "Obviously MTB is my speciality so it's a yes, yes and yes for winter tyres. They help me enormously with grip through deep mud ... which there's a lot during winter near me. Another tip that I know a lot of MTB riders do is to buy a single winter tyre and swap the dry weather front tyre to the rear. It's a cheaper option and with so many winter tyres now available, it works really well as an alternative solution to replacing both tyres."
So, there's our top 3 tips to protecting your bike this Winter and avoiding the costly repairs come Spring. We asked Evie if she had any final pro-thoughts to share;
Evie says: "I'm a big believer that prevention is better than the cure, so following all the tips above will definitely help keep your bike running as smoothly as possible into the Spring, with hopefully no damage or any significant wear and tear.
One other thing, that's more about safety really, is to carry either a saddle bag (I've started making my own, but those tips are for another time!) with emergency repair tools or a repair kit that goes into your backpack. You'll thank yourself when it's dark and wet and you find yourself in a jam.
The final thing I'd say is always check your bike's brake pads and drive chain before you go out, especially for long or challenging rides in the wet. Wear and tear can go unnoticed in the winter months and it can progress quite quickly as the elements take their toll. So, always do a check the day before and make sure everything looks good, clean and well lubricated. Other than that, enjoy the ride!"
Thanks to Evie for her thoughts and pro-tips on giving your bike the TLC it deserves this winter. And look out for our next blog from Evie on how preparations are coming along for the 2022 season."